Join us as a Maximizer VIP at this year's Workshop Series & Lunch in Johannesburg & Cape Town.
You'll hear from expert speakers in our two Workshops on six hot topics for 2019 – Getting the best out of your sales team, Client Relationship Management and your staff, Data security, Lead generation and obtaining new customers, Maximizer Road Map, and Social Media marketing strategies. Includes FREE lunch and peer-to-peer Business Panel Q&A.

Plus lots more at the workshop!
Places are on us and limited so don't miss out!
MAXIMIZER VIP SCHEDULE
SESSION 1:
10:00am – 12:00pm
LUNCH & NETWORKING:
12:00pm – 13:00pm
SESSION 2 (Johannesburg only):
13:00pm – 15:00pm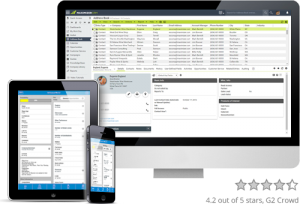 Mike Richardson
The managing director, EMEA for Maximizer Software based in the UK, Mike is charged with delivering and leading the CRM strategy of Maximizer throughout the EMEA region, along with controlling the business partner network. Mike joined Maximizer Software in 2000 and since then has moved from Professional Services Manager to Operations Manager and Head of Customer Care.

In this time Mike has helped build a professional services team whose key focus is the Maximizer customers and heading up the European and African sales team.
Mark Annett
Mark has been dedicated to all-things CRM for over 20 years and is an owner of Camsoft CRM Solutions; the leading Maximizer CRM partner in EMEA and recipient of numerous top CRM business awards in the last decade.

Mark has an intimate knowledge of effective CRM and its value to an organization and as the head of an international team of sales and technical people has been personally involved in over 400 highly successful CRM implementations across Africa and the UK.
Bruce Franklin
Bruce founded Gap Analysis in 2000 after completing his thesis on Service Quality. He is an innovative, collaborative leader whose experience includes successful forays into e and m-commerce, banking and financial services, Insurance, healthcare and card programme management.

Gap Analysis was established to assist companies in identifying the gaps in their business strategies and operational execution with a particular focus on optimisation of performance in the key areas of client acquisition and retention.
Grant Chapman
Grant established Camsoft in 1994 after discovering an interest in information technology whilst completing his engineering degrees at UCT and hasn't looked back since. He is the main shareholder in Camsoft and Cybervision which are CRM and data security companies respectively with offices in South Africa and the UK.

Attending the annual conference for Cybervision's vendor, F-Secure in Munich in May, Grant will be providing some feedback on the current data security threat landscape worldwide and the necessary measures being put in place to ensure that companies are not affected adversely by cyber attacks.
Luke Wiggins
With over 17 years of experience in the digital & online marketing world, Luke has successfully helped numerous brands grow substantially in the marketplace with his valuable knowledge in the field of social media marketing. The topics he will be presenting on at this workshop involve the tried-and-trusted techniques and marketing strategies used in an ever-changing online environment that he has also implemented in-house to develop his own successful brands.

Luke will also report on the wealth of experience he has gained from his marketing endeavours in the complex field of social media.
George Robinson
As a Channel Manager for the EMEA region, George is responsible for liaising with Maximizer's partner network as well as with clients directly to ensure both parties are receiving the best possible service available. Over the past 3+ years, he has gained a true understanding of how to help SMEs grow and success through the use of CRM.
---
THE VENUES
The Amazing Place is a boutique venue located in the Woodmead suburb of Sandton, in a beautiful garden setting offering tranquility in the heart of the city.
The Island Club Hotel and Apartments in Century City, Cape Town, is a welcoming place with luxurious four-star accommodation in a central location, allowing for you to relax in luscious gardens after a long day of touring, meetings or conferencing.
By submitting the forms featured on this page, your details may be used to keep you informed about our future products, service and offers and shared with our Maximizer Certified Business Partners but not any other third parties in the delivery of products and services.